Find What You're Looking For Fast!
Just Enter your Date and Time and See Everything That is Available.
Enter Date and Time
Choose the Best Water Slides in Wentzville!
If you're looking for the best
water slides in Wentzville,
Jolly Jumps is here to deliver! Our exciting slides will not only be the hit of the party, but will also keep your guests cool while having fun in the sun. Our slides are the centerpiece of any event with engaging designs that suit a range of timeframes and budgets. With our incredible selection, it's easy to find the perfect fit for your party. We have huge slides for a crowd, smaller units for backyard parties, and everything in between!
The party pros at Jolly Jumps have been providing the water slides in Wentzville that everyone wants at their party for over 20 years. No one can match our experience in the industry, or the knowledgeable team we have who truly want to make your party a success. We are a locally owned and operated company in
Wentzville, Missouri
, and we take pride in making our communities happy with our inflatable rentals. You can rest assured that all of our slide rentals are cleaned and sanitized between every use. With our careful attention to detail, we have built trust with our customers over the years and continue to do so with each new customer that is sold on our support and quality rentals.
When you're hosting a party, you definitely want a licensed and insured company delivering and setting up your party rentals and we have excellent credentials to accompany our stellar customer support. We come through for our customers with exciting and safe water slides in Wentzville. From the secure online booking system that is so convenient to use from the comfort of your home to guaranteed on-time delivery, your rental experience will be nothing less than amazing. Once you have your date set, browse our options, choose a slide that will make your party stand out, and reserve online. You can call us with questions about our rentals or their booking at (314) 231-5867 and we'll make sure your party is a hit!
#1 Inflatable Water Slides Wentzville Uses for Events Year-Round
Book the best inflatable water slides Wentzville has to offer with Jolly Jumps and you'll add hours of fun to any party! We have the thrilling slides that kids go crazy over at school field days, carnivals, and festivals. Our selection of unique colorful slides will amaze the guests at any birthday party, graduation celebration, or corporate event. Whether you need added entertainment for a neighborhood picnic or a family reunion, our slides will be the reason everyone has an amazing time.

We regularly deliver our slides for a range of events including gender reveals, grand openings, church lock-ins, bar and bat mitzvahs, slumber parties, holidays, vendor fairs, corporate team-building weekends, and so much more. When you're looking for entertainment for a group of teens at a weekend church function, nothing comes close to our festive and entertaining inflatable water slides Wentzville can't get enough of. We have options for all age groups with combo houses, bouncers, and obstacle courses. We have a great selection of dry slides for events where water isn't available or is held indoors. Check out our large selection of water slides and dry slides today. We're confident you will find the ideal theme and size for your event and guests!

Inflatable Water Slides for Rent Wentzville Kids Can't Get Enough Of
Choose Jolly Jumps for the best inflatable water slides for rent Wentzville kids and adults rave about! Our slides are the unique and exciting entertainment that you want for your next event. Our lineup has the most up-to-date and exciting options that will thrill and keep the party going strong for hours.

As you look over our inventory of water slides for rent, you'll see that we are the smart choice for your party's entertainment. Our selections and prices combined with the outstanding customer support make it clear that we are the best option to get the party started. Take a look at our most popular options below and reserve yours today!

T-Rex Water Slide: Priced at $400 for a 4-hour rental, this one is a real monster! With eye-catching colors and a unique theme, this 19ft slide will be a major hit with kids and adults ages 6 and up.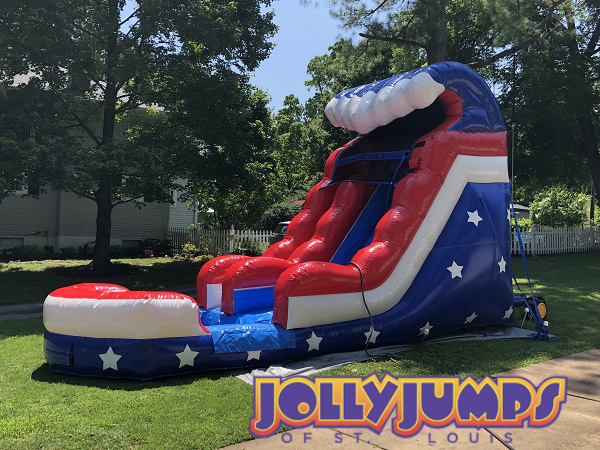 Tiki Plunge Water Slide: This 22ft single lane slide is priced at $450 for a 4-hour rental. This is 22 ft of pure excitement and his slide will entertain for hours. With a Caribbean vibe, this will be a hit for your themed party or luau. This option is perfect for participants 48" and taller, it's a great choice when you're hunting for inflatable water slides for adults for rent St Louis.

Little Splash Water Slide- 13 ft- Single Lane priced at $275 for a 4-hour rental: This is the perfect option for the little ones, ideal for ages 10 yr and under. Little Splash will provide the thrills and chills without overwhelming the younger kids, a great match for birthday celebrations or primary school events.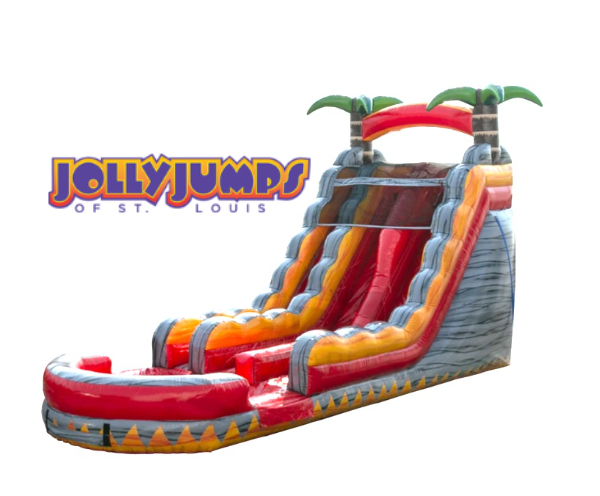 Why Choose Us for Your Wentzville Water Slides
Jolly Jumps is the top choice for reliable and safe options for Wentzville water slides!When you want the best, that's what you'll get from our outstanding team of party rental providers. We're the locally owned company you can trust to help throw an unforgettable party for any age. We have one job and that is making your event a success you can be proud of. All of our units are high-quality and manufactured with safety in mind. Only the best commercial-grade materials including lead-free, fire-resistant vinyl go into our inflatables. Our options for Wentzville water slides are structured with maximum fun in mind and each of our slides is built with inflatable pools and pads at the bottom for easy and safe splash landing!

For over 20 years, it has been our absolute privilege and pleasure to deliver event rentals all over the area, taking cake and ice cream birthday parties to a whole new level of fun. Are you having an impromptu party and want to rent a water slide in Wentzville MO to keep the kids entertained and having fun in the sun? We're here to help. We do our best to accommodate our customers' timeframe, budget, and theme, making your party planning a stress-free and enjoyable time. Go with the pros that have experience and know-how in party entertainment that's affordable and engaging so you can sit back and enjoy the festivities with your guests.

How to Book Inflatable Water Slides for Rent in Wentzville MO
When it's time to book the perfect inflatable water slides for rent in Wentzville MO from the best party rental company in the area, choose Jolly Jumps! With our large selection and great prices, you'll never go anywhere else for your party entertainment. When you book with us the rental rate is for four hours. Our service includes delivery, set up, and tear down of the inflatable. Additional time can be added per hour for a fee and travel fees may apply to some areas. Give us a call at (314) 231-5867 for specifics about our delivery area, prices, and policies.

Reserve your inflatable water slides for rent in Wentzville MO from the comfort of your home or while out and about 24/7 using our convenient, secure online reservation system. Browse, choose, and book in a few easy clicks. Follow these steps to book your water slide through our website today:

From the main menu click on "All Rentals", and then "Water Slides and Dunk Tanks."
Browse our large inventory ofinflatable water slide rentals, choose one or two that fit into your party theme, and click the orange "Add to Cart" button.
Using the calendar, pick your date and choose your start and end time for the rental.
Enter your contact information and the delivery address.
Enter your payment using any major credit card.
A confirmation will be coming your way via email and or text confirming the specifics of the rental and a digital copy of your receipt.
A day or two prior to delivery, someone from our team will reach out to confirm the delivery window.

If you have any trouble navigating our website or need any assistance with your reservation call us at (314) 231-5867. It's always our goal to make reserving the best inflatable water slides for rent in Wentzville MO as simple and straightforward as possible. Let's get the party started!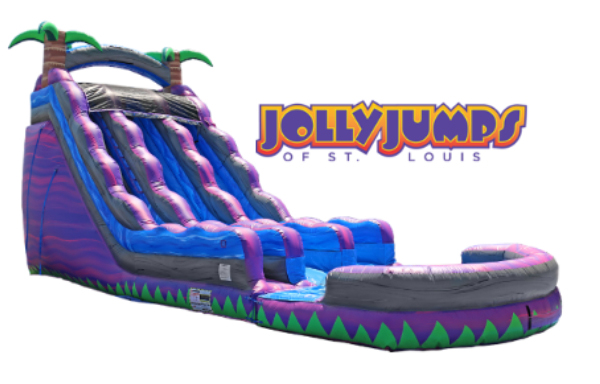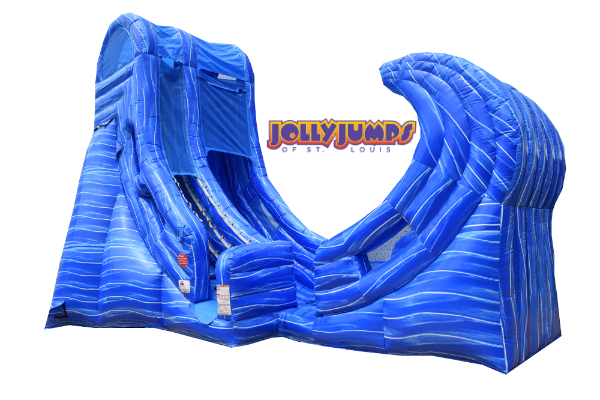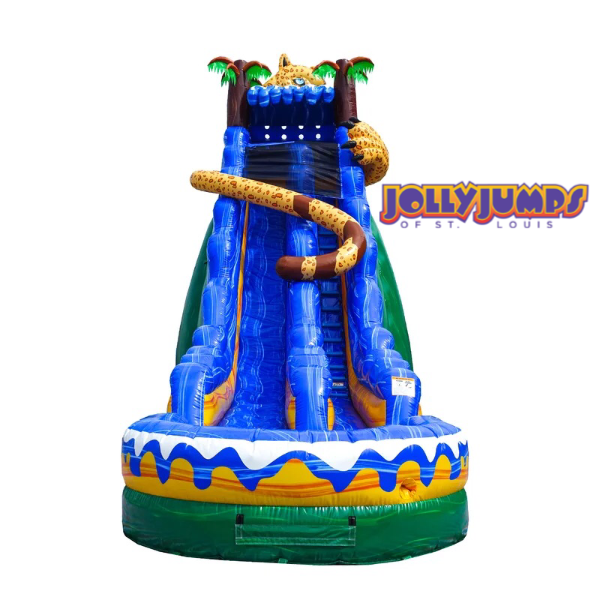 Wentzville MO Water Slide Rentals FAQs
Do you have questions about Wentzville MO water slide rentals? If so, our team is here to provide any details you need to take your party to the next level and give valuable tips for the best outcome for your event. We have the answers to most questions about our party rentals at our fingertips, so don't hesitate to reach out. Call us at (314) 231-5867 to go over your reservation so that with the help of our experienced team, your party will be a huge success!
Q.
What happens if I need to cancel my water slide reservation?
A.
Until 2 weeks prior to your event, you can cancel for any reason. In case of inclement weather, we require a cancellation notice by 8 pm the evening before your party for a party that starts before noon. Parties that have an afternoon start time must be canceled by 8 am the morning of your event. Get in touch with us to learn more about our policies.
Q.
Are your water slide rentals safe enough for my preschool child?
A.
The criteria for our water slide use are the height and weight of the child or adult, not age. Click on "More Info" under the slide option you're interested in and the height and weight specs are listed there. Safety is priority #1 and no one should enter the slide if they don't meet these specs. We always recommend adult supervision if toddlers or young children are using the inflatables.

Q.
Are there special requirements to consider before I book a water slide?
A.
Yes, these are a few things that may influence your party rental including the size and weight requirements of slide participants, the available space to set up a slide, and what surface the slide will be set up on (the slide should be set up on grass and it must be level). You will also need to provide water and an electrical source to power the Wentzville MO water slide rentals.
Q.
How much does it cost to rent a water slide?
A.
Our prices vary based on the size and style of the slide as well as the rental timeframe. Our slides begin at $275 for a four-hour rental and go up from there. We understand many people are searching for a cheap water slide rental Wentzville MO parents can trust, but along with reasonably priced options for every theme and function, we guarantee on-time delivery and helpful customer support. We're your all-inclusive party provider and are here to help make the rental process as smooth and effortless as possible.
You don't have to spend hours searching for the best water slide rental near me. Get the party started with one of our rentals today. Give us a call at (314) 231-5867 with any further questions or if you need clarification on the rentals. We are here to get you what you need to make your party an exciting success!
Delivering Fun with Water Slides Wentzville Loves to Surrounding Areas
Jolly Jumps delivers theexciting water slides Wentzville party planners and guests can't get enough of all across St. Charles County! We've been in the business of providing service to the communities of Chesterfield and O'Fallon for over 20 years and enjoy being a big part of your birthdays, graduations, and every special moment in between. We're happy to provide delivery to the 63348, 63367, and 63385 zip codes. If you don't see your city or zip code listed, give our team a call at (314) 231-5867 to learn more about our service area and to see if we can accommodate your party needs.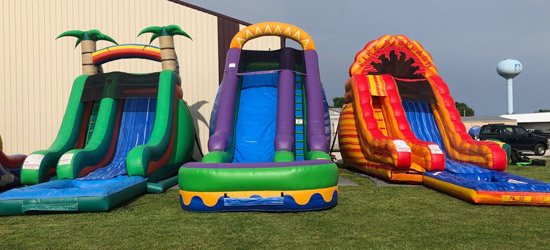 Many of our local customers enjoy hosting outdoor events at nearby parks including Heartland Park, Memorial Park, or Rotary Park. We're here to help offer our insight and let our years of experience go to work on your behalf so that you can host a memorable and fun event without any hitches. Parks typically do not have electrical outlets and could have limited water access, which is why we offer generators for rent and are happy to answer any questions about throwing an event using park amenities. If you've been searching for the perfect water slide rental near Wentzville for your upcoming event, you're in the right place!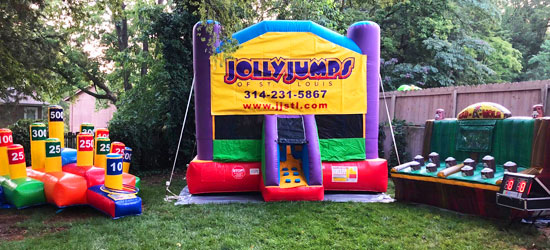 We regularly work with residents, organizations, clubs, local businesses, corporations, sports teams, and Wentzville School District to host functions ranging in size and themes. We have the selections of water slides Wentzville administrators and parents can count on to keep guests entertained while staying safe. No party is too big or small for our team, so take a peek at our selections by clicking on the "Water Slides" category page and book your online rental today!
Amazing Water Slide Rentals Wentzville MO Rates 5-Stars!
We carry 5-star reviewed water slide rentals Wentzville MO counts on to throw unforgettable parties and celebrations year-round! Our #1 goal is to provide rentals that make your event a splashing success. Entertainment is a huge piece of an unforgettable party and we have the affordable and high-quality selections that will take your party to the next level.

We're thrilled to earn repeated business from our amazing customers and don't take our responsibility of supplying fun for every occasion lightly. We've been part of hundreds of special events over the years and are eager to prove to you why we're the #1 choice for inflatable water slide rentals Wentzville MO can't get enough of. Take a look at a selection of positive reviews from customers who enjoyed their experience with the team at Jolly Jumps below.
"Very easy to order online and delivered and picked up on time. Thank you very much. Your product and service was outstanding!!"
-Keith I.
"My entire family, invited parents and their children, were absolutely impressed with everything. (even surrounding neighbors were in awe.) The 2 delivery men assigned to my order, were professional, friendly, and exciting to watch as they set up the equipment and explained all questions I asked which made me feel special and in a relaxed atmosphere."
-Jill S.
"Everything was just as requested. On time and ready to go for the party. The slide was perfect!"
-Angie W